Most weird marriage proposals ever
Marriage proposals are supposed to be magical and memorable, so yes you can agree that at some point in your life you will ask for your loved one's hand in marriage. Some people don't just want to get down on their knees and ask them, that seems too old-fashioned for them. People have gone out of the way to make it special in their own way. Here is a list of people who went out of the way to make some of the most weird marriage proposals ever. They are so unique that I am sure they are unforgettable not just for the couple but the witnesses as well. From all sort of wild to all sort of crazy, we have the weirdest marriage proposal to have happened out there.
IN YOUR PANTS PROPOSAL
If You're Not The One by Daniel Bedingfield is a song all of us have heard whether it's in romantic moments in movies or wedding proposals. But nothing beats radio presenter Pete Simson, making his own video miming to the song. But here is a twist, he wears nothing but his colorful pants to propose to his loved one. How did he do this? He hired out a cinema and gave her the shock of her life by playing it on the big screen.
Dancing Carrots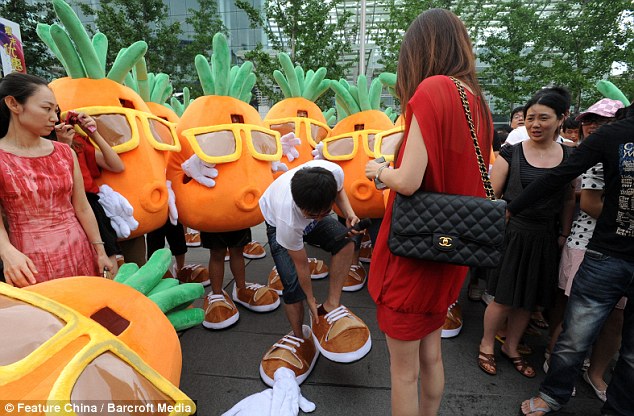 Pang Kun got 48 of his friends to dress up like carrots, gathered them and made them perform a rather odd dance routine. The girlfriend was extremely confused, as anyone would be. Then he whipped off his outfit, proposed in front of the whole crowd who were chanted "Marry him! Marry him!". Too much pressure I'd say.
Back from the Dead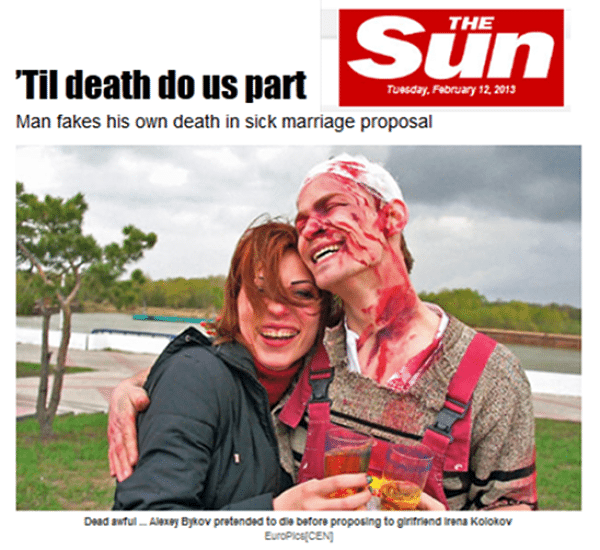 Imagine convincing your girlfriend that you died in a horrible car crash. Well, Russian Alexey Bykov, went to extreme lengths to make his girlfriend believe that he died. He hired a film director and stuntman, just so that he could fake his death. Then he rose from the dead and poped the question to the heartbroken girlfriend. She found it funny and said yes!
Mid air proposal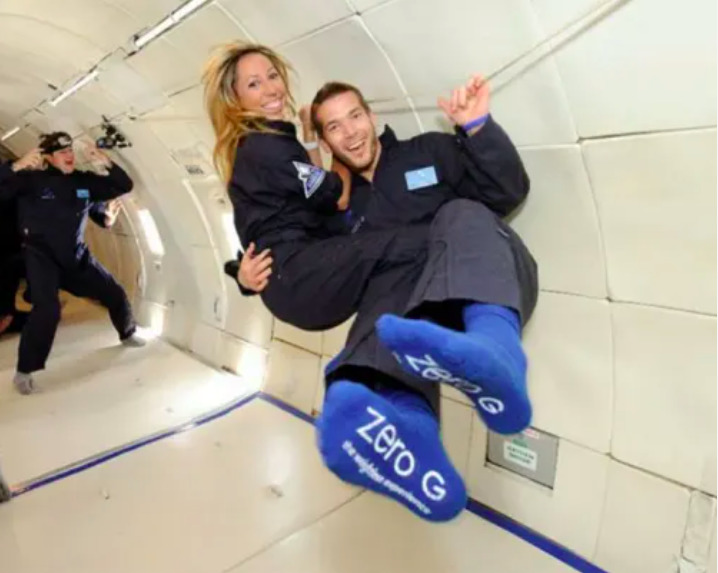 Want her to feel like she's out of this world kind of special? Well, Alexander Loucopoulos took it to the next level by booking a special zero-gravity flight for him and his other half. Kind of tough to pop the question while you're floating but something that she would never forget. Just hold on tight to the ring, make sure it doesn't slip.
A fishy proposal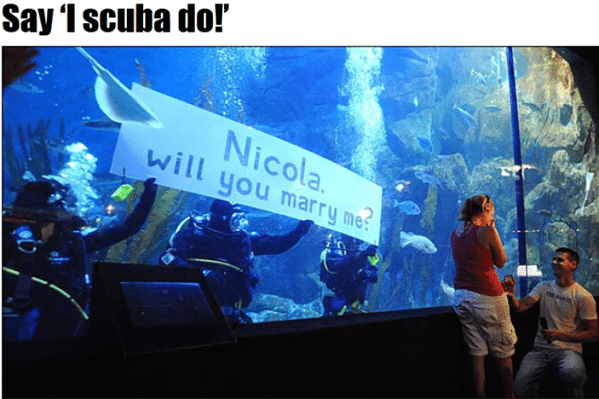 Imagine just going to a huge aquarium to admire how amazing it is to make something as huge as that. All of a sudden you see three men pop out right in front of you holding a banner, you turn around and see your boyfriend on his knees. Well, it worked out well for this guy, who chose the National Marine Aquarium in Devon town. Scuba divers sneaked up in the tank and surprised his girlfriend.
Website for proposal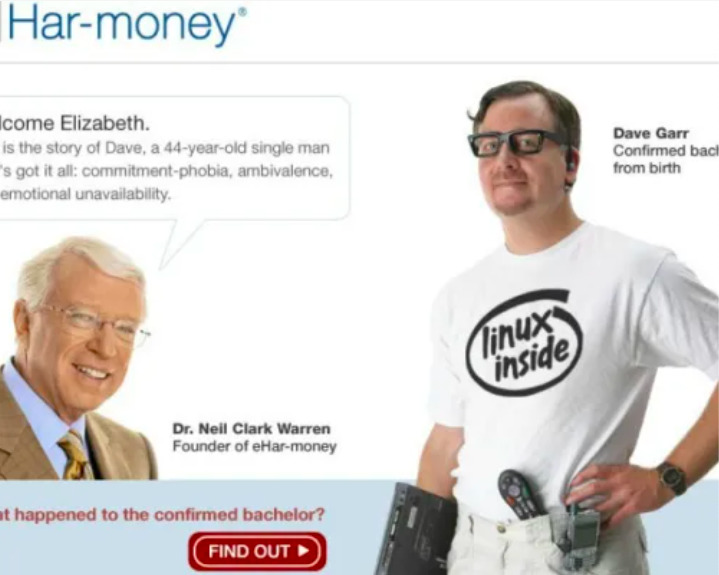 Dave Garr took it to the next level, with the website DaveLovesElizabeth.com. It started off with just a survey of questions, by the end of the survey he pops the big question. Then the website goes to a whiteboard presentation of why he loves Elizabeth. Quite cringy but definitely something no one has done before. The couple is happy and has a kid now.
Let the ring do the talking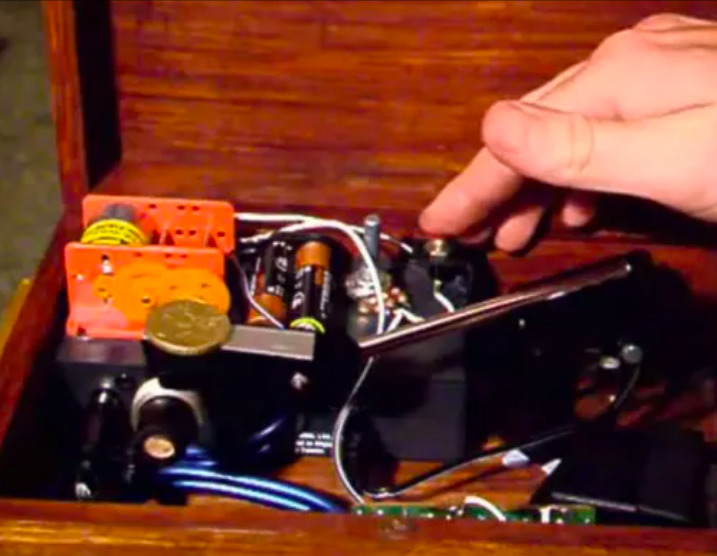 Get the girl a big ring and she won't say no, but here Luke Jerram let the ring talk for itself. Yes quite literally, he collaborated with a jeweller and a vinyl record-maker to create a 20-second sound recording into the surface of the ring. This was done with a proposal message that was played by a miniature record player.
A Billboard of love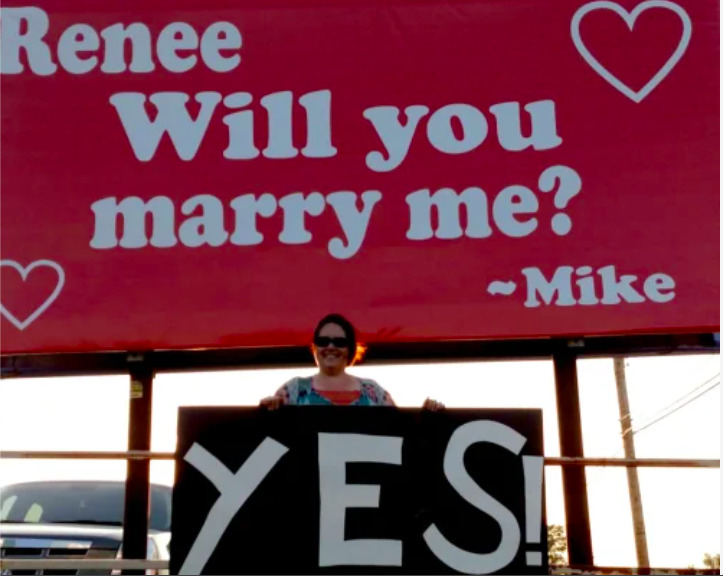 Nothing says i love you then a big gesture, like a really big gesture, so big that everyone down the road can see it. Want to make a big statement how about asking your love to marry you on a billboard. She has got to say yes to this! Also Any other Mike's and Renee's you can go for it while the billboard is still up.
The things people do to express their love are insane. They go out of their way to make it special and however weird it may look to us, their thoughtfulness and efforts are truly appreciable. Which one of these was the most bizarre to you? Will you try any of these to ask out your loved one? Do let us know in the comments down below. Don't forget to check out our fun category for more entertaining articles.